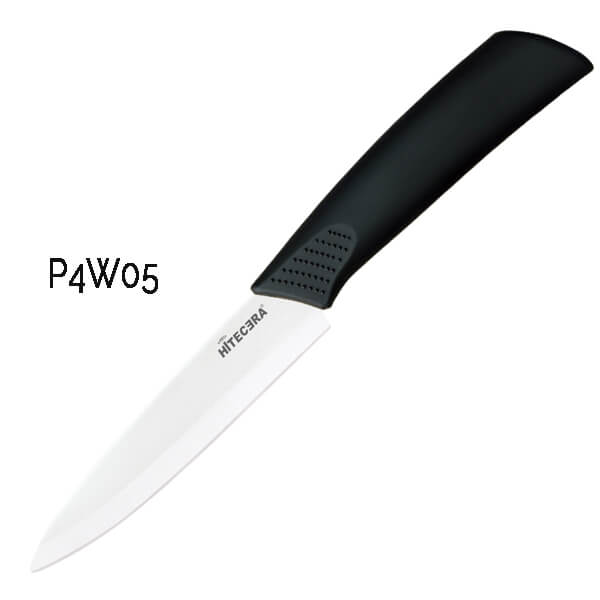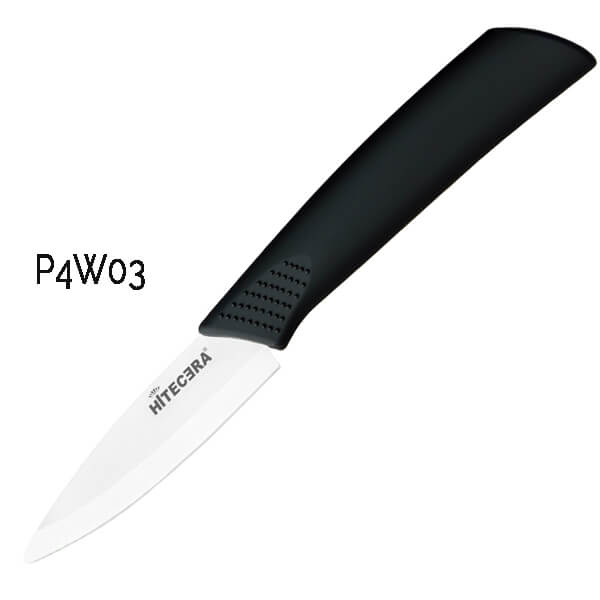 White Ceramic Knife
Features
---
Idea for chopping piles of herbs, vegetables or boneless meats with dense, smooth blade
Stay ultra sharp longer than traditional steel blade
Antioxidant -maintainng the good taste and color of fruit and vegetable
Non-porous ceramic leave no space for bacteria to survive
Ergonomically designed non-slip handle is durable and comfortable
Perfect gift for amateur or professional chefs
Easy maintenance and precision safe cutting
Compliant with SGS, FDA and LFGB standards
---
Blade Material: Zirconium Oxide (ZrO2)
Handle Material: ABS with TPR coated
Composition: ZrO2+Y2O3%≥99.5%
Specific Density > 6.0 g/cm3
Hardness(HV)>87 HRA
Blade Color: white,black,matt black
Handle Color: black,blue,customized
Packaging 1: clamshell packaging
Packaging 2: PVC tray + clear plastic box
Packaging 3: PVC tray + window box
Packaging 4: flocking plastic +gift box
Packaging 5: EVA inner + gift box

| | | | | | | |
| --- | --- | --- | --- | --- | --- | --- |
| Item No. | P4W03 | P4W04 | P4W05 | P4W55 | P4W06 | P4W65 |
| Knife Type | 3" paring knife | 4" utility knife | 5" slicing knife | 5" santoku knife | 6" chef's knife | 6" slicing knife |
| Blade Length | 78 mm | 104 mm | 127 mm | 133 mm | 153 mm | 160 mm |
| Blade Width | 20 mm | 20 mm | 24 mm | 32 mm | 35 mm | 29.5 mm |
| Handle Length | 108 mm | 108 mm | 137 mm | 137 mm | 137 mm | 137 mm |
| Total Length | 185 mm | 207 mm | 250 mm | 250 mm | 275 mm | 285 mm |
| Thickness | 1.6 mm | 1.6 mm | 1.8 mm | 1.8 mm | 1.8 mm | 1.8 mm |
| Net Weight | 38.6 g | 42.1 g | 76.6 g | 90.0 g | 93.3 g | 91.0 g |
Wash the knife after each single use, preferably by hand with a mild detergent and do not wash it in the dishwasher.
Be used on silicone, wooden, plastic or bamboo cutting boards only.
No pry, flexing, violent chopping, or boning.
Do not use the side of blade to smash anything such as garlic, herbs, spices etc.
No heat or shock.
Do not use your hand to test the hardness of the blade.
Keep it in safely and keep away from children.
Do not attempt to sharpen the ceramic knife yourself unless you have access to sharpener specific to ceramic knives.