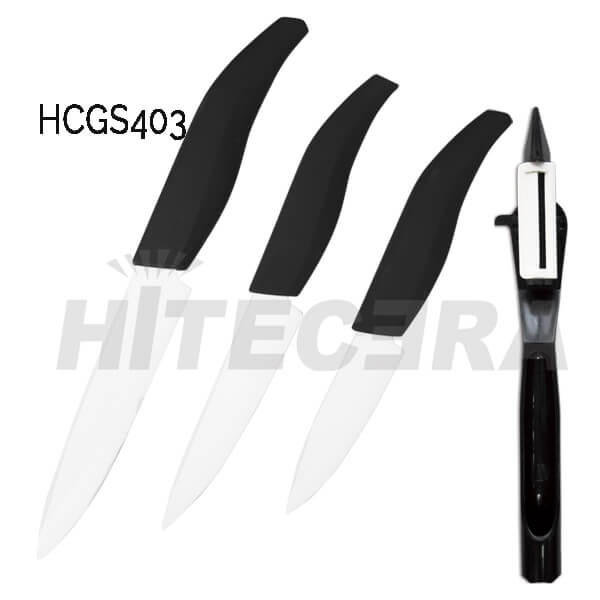 Best Value Kitchen Knife Set
Features
---
Perfectly balanced for ease of use.
Effortlessly glide through food offering precision and mastery with each cut.
Won't oxidize your food and turn brown as fast.
Non-stick surface, foods don't cling while chopping.
Luxurious magnetic gift box, and ideal gift for birthday, wedding, anniversary, mom, dad, wife, husband and amateur cooks.
Lightweight, easy carrying
Compliant with SGS, FDA and LFGB standards.
---
HCGS201 Set

3" Paring Knife P2W03 \ Ceramic Peeler HP1
Packaging Detail
Magnetic Gift Box + Flocking Plastic
Packing Size:
209x130x32 mm
Set Gross Weight:
0.21 kgs
Packing:
68 sets/ctn
Carton Size:
590x440x275 mm
Gross Weight:
15.4 kgs



HCGS403 Set


5" Slicing Knife P5W05 \ 4" Utility Knife P5W04 \ 3" Paring Knife P5W03 \ Ceramic Peeler HP2
Packaging Detail
Magnetic Gift Box + EVA Foam
Packing Size:
330x200x40 mm
Set Gross Weight:
0.42 kgs
Packing:
20 sets/ctn
Carton Size:
440x370x420 mm
Gross Weight:
10.0 kgs



HCGS602 Set


6" Chef Knife P4W06 \ 6" Slicing Knife P4W65 \ 5" Slicing Knife P4W05
4" Utility Knife P4W04 \ 3" Paring Knife P4W03 \ Ceramic Peeler HP1
Packaging Detail
Magnetic Gift Box + EVA Foam
Packing Size:
330x320x33 mm
Set Gross Weight:
0.90 kgs
Packing:
10 sets/ctn
Carton Size:
350x350x360 mm
Gross Weight:
11.1 kgs
Wash the knife after each single use, preferably by hand with a mild detergent and do not wash it in the dishwasher.
Be used on silicone, wooden, plastic or bamboo cutting boards only.
No pry, flexing, violent chopping, or boning.
Do not use the side of blade to smash anything such as garlic, herbs, spices etc.
No heat or shock.
Do not use your hand to test the hardness of the blade.
Keep it in safely and keep away from children.
Do not attempt to sharpen the ceramic knife yourself unless you have access to