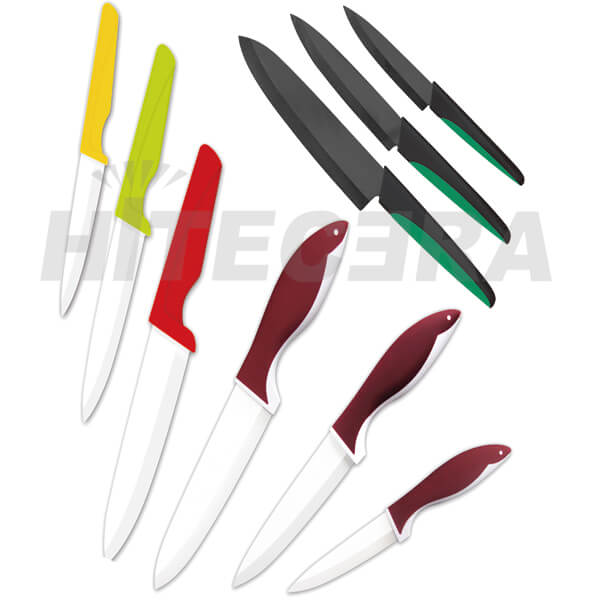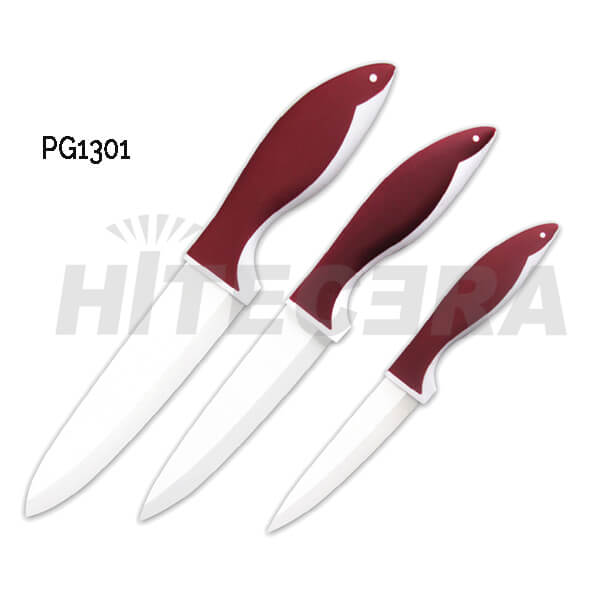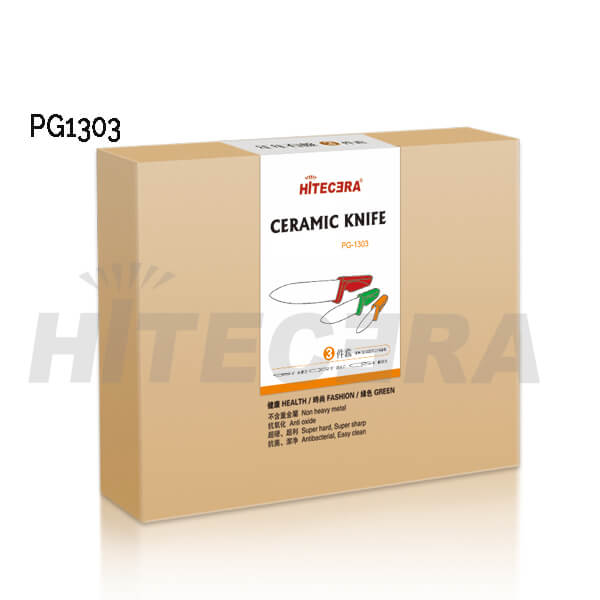 Black Kitchen Knife Set
Features
---
High grade zirconium dioxide processed by high technology.
Save a lot time and relieve fatigue during food preparation works.
No chemical reaction with any food and impervious to acids, oils, salts and etc.
Different size blades are convenient for different needs and easy ingathering.
Remain the original fresh color and natural taste with wealth nutrition.
Light weight ergonomic design fits nicely into your hands.
Ideal gift for amateur cooks and experienced chefs.
---
| | |
| --- | --- |
| PG1301 Set | 6" Chef Knife G1W06 \ 5" Slicing Knife G1W05 \ 4" Utility Knife G1W04 |
| Packaging Detail | Self-Lock Plain Corrugated Box+ EVA Foam |
| Packing Size: | 340x195x27 mm |
| Set Gross Weight: | 0.54 kgs |
| Packing: | 18 sets/ctn |
| Carton Size: | 460x380x280 mm |
| Gross Weight: | 9.3 kgs |
| | |
| PG1302 Set | 6" Chef Knife G5W06 \ 5" Slicing Knife G5W05 \ 4" Utility Knife G5W04 |
| Packaging Detail | Self-Lock Plain Corrugated Box+ EVA Foam |
| Packing Size: | 340x195x27 mm |
| Set Gross Weight: | 0.48 kgs |
| Packing: | 18 sets/ctn |
| Carton Size: | 460x380x280 mm |
| Gross Weight: | 9.2 kgs |
| | |
| PG1303 Set | 6" Chef Knife G7W06 \ 5" Slicing Knife G7W05 \ 4" Utility Knife G7W04 |
| Packaging Detail | Self-Lock Plain Corrugated Box+ EVA Foam |
| Packing Size: | 340x195x27 mm |
| Set Gross Weight: | 0.60 kgs |
| Packing: | 18 sets/ctn |
| Carton Size: | 470x375x270 mm |
| Gross Weight: | 9.7 kgs |
Wash the knife after each single use, preferably by hand with a mild detergent and do not wash it in the dishwasher.
Be used on silicone, wooden, plastic or bamboo cutting boards only.
No pry, flexing, violent chopping, or boning.
Do not use the side of blade to smash anything such as garlic, herbs, spices etc.
No heat or shock.
Do not use your hand to test the hardness of the blade.
Keep it in safely and keep away from children.
Do not attempt to sharpen the ceramic knife yourself unless you have access to